The countdown has begun! The PUBG Nations Cup (PNC) is making its grand return to Seoul, South Korea, where it all started back in 2019. Get ready to experience unmatched PUBG action as 16 international teams battle it out from September 15th to 17th at the Sangam Afreeca Colosseum for their share of more than $300,000.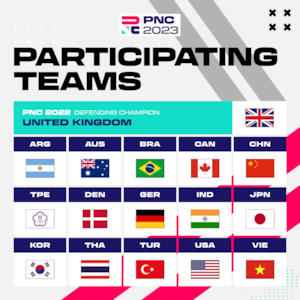 Returning Champions and Global Line-Up
Keep an eye on the defending champions from the United Kingdom, as they go up against powerhouse teams from Argentina, Australia, Brazil, Canada, China, Chinese Taipei, Denmark, Germany, India, Japan, South Korea, Thailand, Türkiye, the United States, and Vietnam.
Tournament Structure
PNC 2023 spans three days and will feature a total of 18 high-stakes matches across maps like Erangel, Miramar, Taego, and Vikendi. All matches kick off at 9:00 UTC / 11:00 CEST / 16:00 ICT / 18:00 KST / 2:00 PDT.
Enriched Prize Pool
Starting at $300,000, the prize pool can grow even more with the return of our crowdfunding initiative via the PNC 2023 Pick'em Challenge, which is back and better than ever! Jump into the Esports tab from the main menu to participate. Purchase PNC 2023 items like the MEGA BUNDLE, STRIKER SET, and more to earn voting coupons and cast your vote. 25% of PNC 2023 skin sales will be distributed to the participating teams based on their final tournament standings. More details are here.
Game-Changing Rules
PNC 2023 will feature Vikendi in its global PUBG Esports map pool. Additionally, it will operate based on patch #25.1, identical to the in-game ranked mode.
Where To Watch
Don't miss a single moment of the PUBG Nations Cup 2023 action! We're rolling out a multi-language broadcast, led by our top PUBG Esports talents and casters, including Paperthin, State, and Bella. The main event will span from September 15th to 17th, starting at 18:00 KST local time (09:00 UTC / 11:00 CEST / 16:00 ICT / 02:00 PDT).
Here's where you can tune in:
Note that we've got additional language feeds as well!
For more information and assets, please visit PUBG Nations Cup 2023 Website or follow us on Twitter, Instagram, Twitch, YouTube, and TikTok.
About KRAFTON, Inc.

Based out of South Korea, KRAFTON, Inc. is a collective of independent game development studios bound by a passion for creating innovative and engaging entertainment experiences for gamers worldwide. Founded in 2007, KRAFTON consists of PUBG STUDIOS, Bluehole Studio, RisingWings, Striking Distance Studios, Dreamotion, Unknown Worlds, 5minlab, Neon Giant and KRAFTON Montréal Studio, each with its own unique expertise.

KRAFTON is responsible for premier entertainment properties, including PUBG: BATTLEGROUNDS, The Callisto Protocol, NEW STATE MOBILE, Moonbreaker, TERA and ELYON. With a team of 3,000 members across nine countries, KRAFTON is a technology-driven company that boasts world-class capabilities as it seeks to expand its areas of business beyond games to multimedia entertainment and deep learning. For more information, visit www.krafton.com